Installment 1 (1995)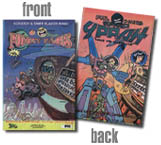 FAL Bend-Over Mini-Poster: Pinnocahontas / The Double-Secret Corporations of the 'LOOP'
Zomby, the Poor Li'l Undead Boy
Economical Eats
Crotch-Dog
BatZomb [in 3-D!]
Why there's no article on flan
Lloyd, the Well and Wonder Frog
Cartoon Fashion
The Art of FAL: Cannibal Cow
Pulp Diction: Johnny Nmoronic
Brain Sucker
Mr. Safety Man
Moderately Sized Crossword
Who'da Thunk It!?
Mumble [or, "What the hell is Tony Danza saying?"]
Snaillibs
fake ads
FAL products for sale
make-your-own 3-D glasses!
Installment 2-D (1996)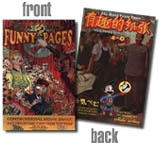 FAL Bend-Over Mini-Poster: / Giant Angry Robot Small Annoying Poster (and Tiny Grumpy Toaster)
How To Read This Book
'Buddy' Lee Presents
Cheese in Sherwood
The Chick Dinkly Show
SPLOB (by Dan Seneres)
Harley, the Tuff Li'l Biker Slut
File Under Fire
BatZomb
Gamma Man
Son of Gamma Man
Brain-Sucker
Into the Frog
ComputaPoll
Economical Eats
Carney
Giant Large Straw Sound (by Gary Korhonen)
Bumpers
Quiz
Mr. Safety Man
Mumble
Who'Da Thunk It?
Eagle Eye
Moderately Sized Crossword
Giant Angry Robot 3K
Earth to Erma
Wilbur the Woodship
Western Tales of Smut
fake ads
Installment 2-X (1997)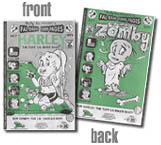 FAL Bend-Over Spread-Out Pin-Up: Harley the Tuff Li'l Biker Slut and the Galaxy of Larvae Comics Stars
'Buddy' Lee Presents (two rants)
Harley, the Tuff Li'l Biker Slut
Li'l Bat, the Gay Li'l Goth Gal
Divorce is Dandy
another episode of Harley, the Tuff Li'l Biker Slut
Slow Wave (by Jesse Reklaw
Zomby, the Li'l Undead Boy
another episode of Zomby, the Li'l Undead Boy
Trite Trout
File Under Fire
FAL Tracks (also by 'Buddy' Lee)
fake ads