No salesperson will call! Enjoy genuine FAL merchandise in the privacy of your own home. Show your support for great AMERICAN humor by investing in our overpriced goodies. Guaranteed real items! We even pick up the shipping and handling (to USA addresses).

If you don't want to use the PayPal shopping cart, try our own order form. We will not bill you or ship until we get confirmation from you.
(We're working on credit card acceptance - so our order form will be updated to reflect that, when it's ready...)


The End of the World never tasted so good! Our live radio play from November 2000, with phenomenal voice talent, great skits and original songs...
Homespun CD copy with full-color label and a great picture book, in a jewel box. Limited quantity of this deluxe edition.
Regularly US$15... but right now we'll let you have it for $US12.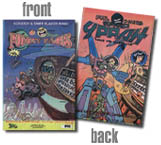 FAL Brand Funny Pages
Installment 1
A very limited quantity of this gem is available. With a scratch-and-sniff Flavor Ring and other hand-touches, a true 3-D comic (and 3-D glasses kit included). Signed and numbered. US$15.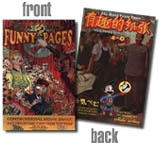 FAL Brand Funny Pages
Installment 2-D
Bigger, slicker and snarfier than our first installment - with more of those insane hand-crafted additions. Signed upon request. US$10.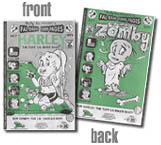 FAL Brand Funny Pages
Installment 2-X
A neurogenically correct sampler (in a much smaller dose). Flip-book with reprints of Harley and Zomby, plus some new stuff. Signed upon request. US$3.

Nuke Nova
Installment 927: A Fist Full of Darkness
FAL's only full-color comech. See all the crummy flaws before they're covered up forever by the inevitable Special Edition. Signed upon request. US$3.50.

Nuke Nova
'ZINE
RARE! Hand-colored cover. First book ever distributed by FAL. Photocopied. Signed upon request. US$25.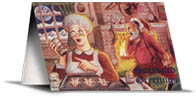 X-MESS Card: Seasoned Greetings
Rare 1995 holiday greeting card, featuring Santa choking on a gingerbread man! Printed and designed by FAL founder Erik Lobo. Set of four (all the same design). US$6.

The Sorry Ass
Storybook and CD
Available later this year. Order in advance for worry-free fun. US$20.
T-Shirt


Cinema Insomnia
Join The cult and show your dedication to bad movies and sleep deprivation. These are high-quality shirts - not those cheap plasticky knock-offs. 100% preshrunk Fruit Of The Loom cotton. Please specify size (S, L, XL, XXL). A mere US$15.